We've done our research so you don't have to! Whether you are using cannabis for recreational or medicinal benefits, we encourage you to stop by our shop to find the right products for you. We are fully dedicated to assisting our customers 365 days a year. That's right, every single day of the year we'll be here to answer questions, suggest products and educate the public on responsible cannabis use. Come in today, weed love to meet you!
At 365 Recreational Cannabis we carry only the highest-quality, cleanest, and purest cannabis products grown and processed right here in the great and legal state of Washington. In an effort to provide our customers with the best cannabis experience possible, we're always on the lookout for new products and brands to add to our stash. If you are an i-502 producer or processor, send us a message using our contact form and let's share the love.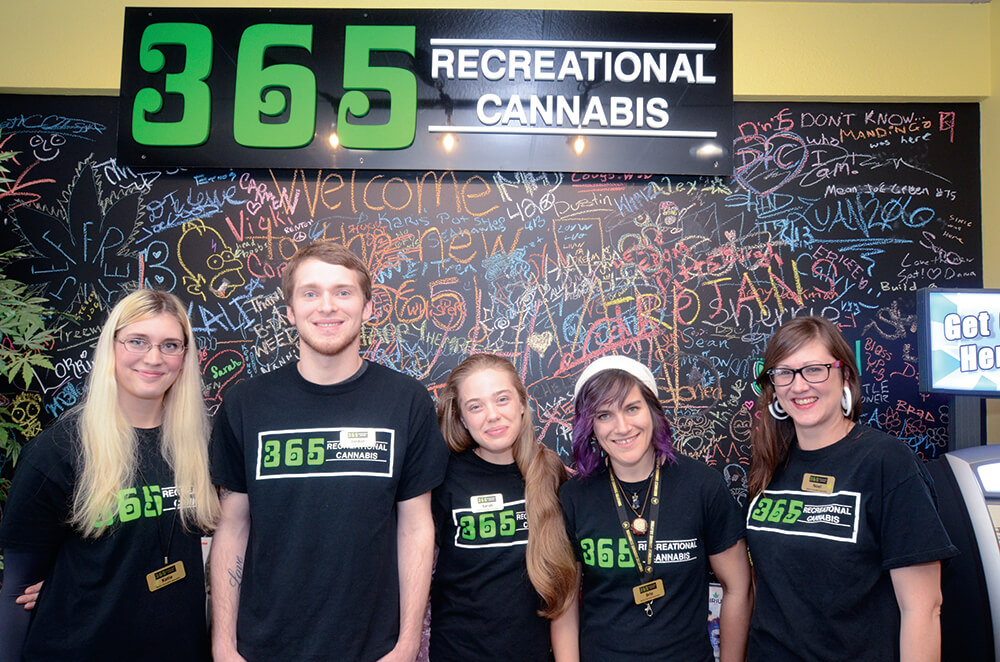 Hours: 
Sunday – Thursday 9AM–9PM
Friday – Saturday 9AM–10PM
Address: 
17517 15th Ave NE
Shoreline, WA 98155
Phone: (206) 557-7778


Hours:
Sunday: 9AM – 6PM
Monday-Thursday: 9AM-8PM
Friday – Saturday: 9AM – 9PM
Address:
36711 Highway 12
Dayton, WA 99328
Phone: (509) 382 3161
What 365 Customers are Saying
"For a small shop, 365 has a humongous selection of non-smoke THC and CBD products. As the year progresses, it seems more experimental marijuana projects are showing up in stores; oils, lotions, balms, salts, jellies, you name it—and 365 carries an immensely diverse selection! I don't think you'll find a better place for last minute holiday gifts than 365. I'll see you there."
Best dispensary I have and probably will ever go to. Its definitely my go to and I was hearing them remember me by name by like the 3rd time I was in. Great employees with constantly changing deals to convince you to come again.
Awesome place!! The dude I was helped by was super cool, loved his job and wowd me over and over with all these cool new products. Great deals!!! Definitely check this place out.
My favorite store. Wonderful and super knowledgeable budtenders. Giant selection. Daily sales. Point system for extra discount. I drive 30 minutes to get there instead of going to stores 3 minutes away and 7 minutes away from my house.